Forklift Certification Training
Suncoast Safety Council no longer offers forklift training.


If you are a COMPANY in need of training, please contact:
Worker Safety Net at 727-222-3668 or support@workersafety.net.

If you are an INDIVIDUAL seeking training, please contact:
Pinellas Technical College at 727-893-2500 x2630 or bryantro@pcsb.org.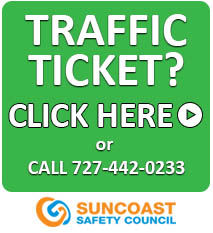 Suncoast Safety Tips
Listen Up
Noise-induced hearing loss is one of the most common occupational diseases. Always wear your recommended equipment to prevent hearing loss (canal caps, earplugs or earmuffs), which may vary depending on the noise level and work environment. If you are uncertain, ask. If you have to shout over noise to be heard on or off the job, that noise could be damaging your hearing.